2020 Chocolate Dessert Contest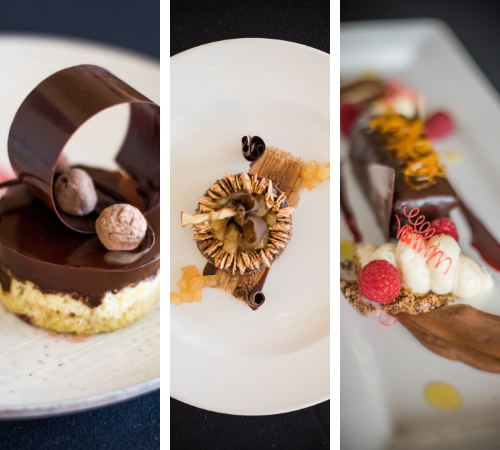 Join our expert judges, Chef Angela Salvatore of the Culinary Institute of America in Napa Valley, Chef Darrell Folck, and former Candy Maker, Charlie Douglass as they judge chocolate desserts submitted by local pastry chefs during our annual Chocolate Dessert Contest.
Live judging will take place on Sunday, March 8 from 11am on Festival's Main Stage located in the Grand Ballroom.

Winner and runner up announced at 12:30pm.
2020 Participants:
Erica Bryan – Sweet Stuff Bakery, Medford
Kali Kennedy – Larks Kitchen & Cocktails, Medford
Michael Lenihan – Carriage House Restaurant, Jacksonville 
Emily Zellner-Gisler  – Larks Home Kitchen Cuisine, Ashland
Mia Schoen – LUNA Café, Ashland
Rosanna Ferraro – Jensen of Mamma Bella's Biscotti, Ashland 
Leticia Lujan – Winchester Inn, Ashland 
Judging Criteria:
Our competing chefs will be judged based on the following:
Taste

Presentation

Originality

Best use of Chocolate