Learn the art of creating a Traditional Mayan Cacao Ceremony and how to utilize this awesome plant medicine to open your heart. You will also learn how to create your own cacao ceremonies at home. We will be using an original strain of cacao sourced from a cacao shaman in Guatemala. If you already love chocolate, you will grow to respect chocolate as a powerful healing plant. Ceremonies are accompanied by beautiful music and singing.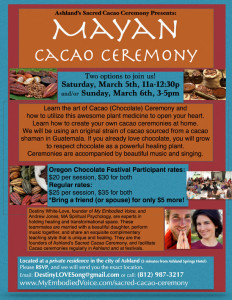 Cacao Ceremonies are offered two times over the weekend:
Saturday, March 5th from 11am-12:30pm
Sunday, March 6th from 3-5pm
Come to one or both!
Special discounted rate for Oregon Chocolate Festival Participants:
$20 for one session, or $30 for both.
And! If you bring a friend or spouse, it's only $5 extra
($25 for two people for one session, $35 for two people for both.)
Located at a private residence in Ashland, 5 minutes from Ashland Springs Hotel.
Please RSVP for specific address to DestinyLoveSong@gmail.com 
or call (812) 987-3217 to speak with Destiny, the workshop leader, directly.