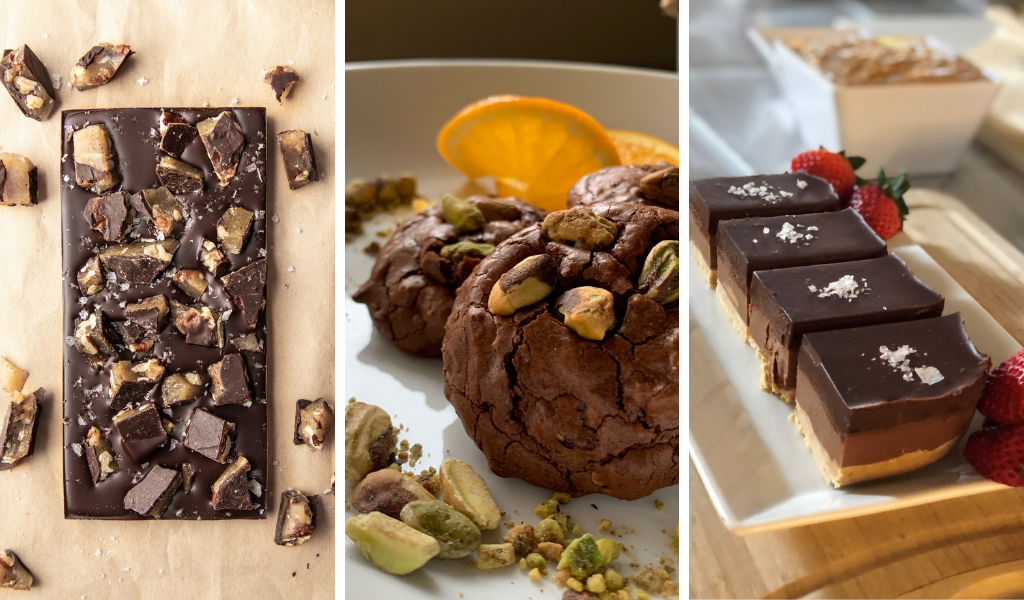 Chocolate Maker's Sweet & Savory Provision Box 2021
In Honor of the annual Chocolate Maker's Wine Dinner
**SOLD OUT**
For over a decade Chocolate Maker's Wine Dinner has become a must event of the annual Oregon Chocolate Festival. We're excited to announce that we won't let this tradition disappear. This year, we're turning our beloved event into a Chocolate Maker's Sweet & Savory Provision Box from LARKS Restaurant, to enjoy in the comfort of your home.
Get FREE access to the virtual 2021 Oregon Chocolate Festival with the purchase of a provision box. Dig into the sweet and savory contents of the box, try new recipes, and watch at your own pace demos by popular chocolatiers, food artisans, mixologists, sommeliers and more. Plus, pastry chefs baking with chocolate, tours of cacao farms – all from the comfort of your home!
Provision Box Includes: 
Bottle of RoxyAnn Winery Merlot

Two stemless festival wine glasses

MEAL KIT:

Rise Up! Rosemary Ciabatta Bread

Salad of Organic Field Greens, Roasted Farm Vegetables, Dried Cranberries, Cocoa Dusted Hazelnuts, & Sherry Vinaigrette

Orange & Cocoa Nib Spiced Duck Leg Confit

Recipe & Ingredients for Maranatha Peanut Butter Chocolate Bars:

Jar of Maranatha Crunch Peanut Butter

Scharffen Berger Chocolate Bits

Recipe & Ingredients for Double Chocolate, Pistachio Cardamom Cookies:

Dry Mix for Cookies

Pistachios

Scharffen Berger Baking Chocolate

Wildwood Chocolate Bar – Best Chocolatier and Confectioner in America by the International Chocolate Salon & Oregon Chocolate Festival 2020 Best in Show Winner

Chocolate Brownie & Tahitian Fleur de Sel Tartlets
$75 per box (serves two people) 
***Have a pre-purchase? Pick up the weekend of the festival (3/5 or 3/6) at LARKS Restaurant (212 E. Main St. Ashland / 541.488.5558).