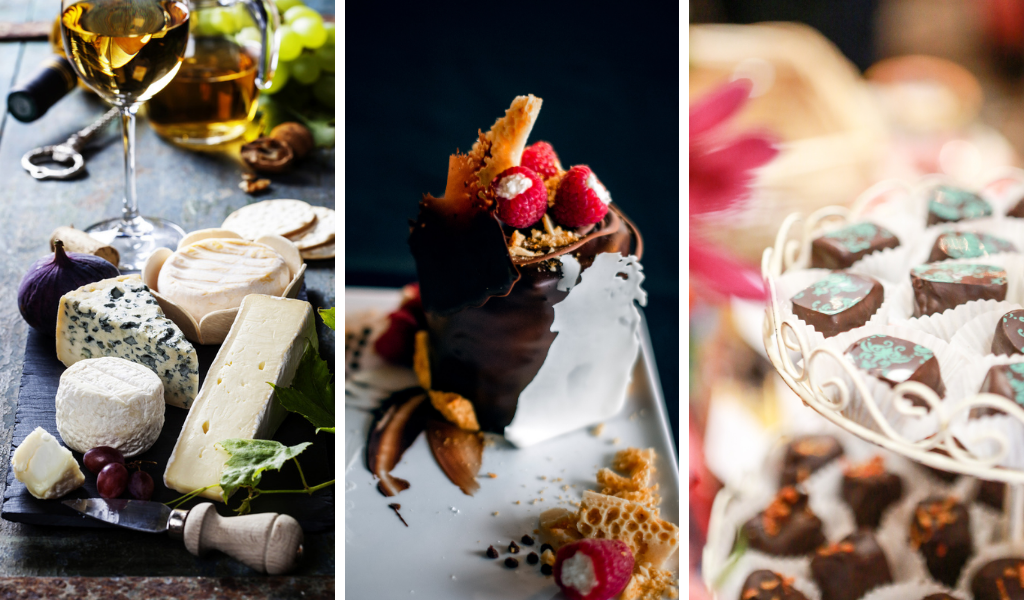 2021 Virtual Oregon Chocolate Festival Lineup
Learn, follow along, engage!
Gain access to the 2021 festival line up on March 5th and enjoy at your own pace anytime after.
Mission Chocolate, Sao Paulo, Brazil – Arcelia Gallardo
Theobroma cacao, Latin for "food of the gods," is native to Central and South America. The ancient Mesoamericans, which included the Olmec, Mayan, and Aztec civilizations, worshipped chocolate, or Xocolatl—bitter water—as the Mayans called it and enjoyed it as an everyday drink as well as in rituals and healing practices. Join Arcelia Gallardo as she demonstrates use of a metate, molinillo and other tools to make traditional chocolate beverages that have been enjoyed for centuries in Central and South America. Cacao beans have been used to make beverages for thousands of years, whereas chocolate bars have only been made for less than 300 years. What was this beverage that won everyone over? How it is made and what are the tools to make it? Join Arcelia as she answers all these questions and shares with you over 18 years of researching and drinking cacao.
Rogue Creamery's Cheese + Chocolates Pairing Class 
Oregon Chocolate Festival has partnered with Rogue Creamery to bring you a special selection of two cheeses and two chocolates, chosen to pair perfectly with one another. Watch engaging pairing class conducted by Rogue Creamery cheese expert and a guest chocolatier, Jeff Shepherd of Lillie Belle Farms. This two-cheese and two chocolates collection is available for purchase if you wish to do the tasting along with the experts. Rogue Creamery's Cheese + Chocolate Tasting Box ($55 per box pre-shipping)
Chocolate Torte demo with Pastry Chef Instructor Stephen Durfee
One of a kind opportunity to learn how to bake this sinful chocolate torte with a Pastry Instructor Chef at the Culinary Institute of America located in Graystone, CA. For a downloadable recipe click here.
Chocolate Geode Slices by Anne Boulley
Meet true chocolate artist, Anne Boulley, better known as the Artisanne Chocolatier. Watch Anne as she makes her chocolate sliced minerals using Conexion Chocolate, a fair trade heirloom chocolate from Ecuador.
Interview with Ray Major
Meet Master Chocolate Maker, independent cocoa consultant specializing in production, processing and sustainability, with 44 years of experience, formerly of Sharffen Berger Chocolate, Hershey, Cadbury and other world chocolate brands. He is here to answer all our chocolate related questions, from how does one become a Master Chocolate Maker, to how climate change impacts cocoa crops and does chocolate flavor change depending on the year it was produced, like wine? This and many questions answered!
Caramelized White Chocolate Panna Cotta with Cocoanib Crumble and Bruleed Bananas
Join Chef Angela Salvatore of the Culinary Institute of America in Napa Valley, as she makes this multi texture white chocolate delight. Not a fan of white chocolate? Well, you might change your mind after you test this recipe. Download recipe
History of Chocolate and Women
Join Megan Giller, food writer, author of "Bean to Bar Chocolate: America's Craft Chocolate Revolution" book, and founder of Chocolate Noise as she takes us on a journey over the centuries of humans enjoying cocoa and what role women has played in our fascination with chocolate.
Cranberry Almond Chocolate Bark Recipe Demonstration by Market of Choice 
Although there are many methods to making bark, Markey of Choice's tried-and-true recipe consistently gets good results.
Hacienda de Cacao – Hacienda San Antonio el Cocal located in Chiapas, Mexico 
Join Mario Cantoral on a tour of the Hacienda and cacao estate established in 1823. Discover their traditional ways of making chocolate, from washing cacao beans in the river to fermenting and more.
Chocolate Library Discussion by Market of Choice
Open your palate to unique, single-origin chocolates from around the world.
An Introduction to Home Chocolate Making
Join Nate Saal, founder of CocoTerra in this engaging presentation on all the steps of chocolate making. Also, get a sneak peek into the future of chocolate making with CocoTerra, the world's first bean-to-bar chocolate maker for the home kitchen. This is a game changer for anyone who has always wanted to make small batch chocolate at home.
Chocolate and Beer Pairings by Market of Choice
From straight-forward to surprising, discover what types of chocolate pair well with which styles of beer.
Chocolate Craft Cocktails Demonstrations:
Mixologist Amber Shannon (Luna Café & Mercantile)
Mocha Martini, featuring Cocoa Nib infused vodka, homemade chocolate liqueur and homemade coffee liqueur. Learn how to make your own chocolate and coffee liqueur and infuse your vodka. Learn how to build Mocha Martini to enjoy at home. Download recipe 
Mixologist Amber Gonzales (Larks Home Kitchen Cuisine)
Chocolate Covered Ginger – Yazi ginger vodka, Aztec chocolate bitters, Godiva chocolate liqueur. Served up with a rim of holy cacao chocolate, sugar and cocoa powder. Download recipe
Wine & Chocolate Pairing
Join Molly Shaughnessy, Certified Sommelier through the Court of Master Sommeliers, and a manager at Larks Home Kitchen Cuisine on a delightful wine and chocolate pairing class. Improve your wine knowledge and learn what wines and dessert wines pair best with a variety of artisan chocolates. This class takes you on a journey from rose to port, from ruby chocolate to rich, high cacao content dark chocolate. Among many good pairing guidelines Molly explains how to match intensities of wine and chocolates flavors.
Discover CoCacao, healthy, vegan, gluten free chocolate treats made with just 3 organic ingredients!
Join owner, Michele Davis as she showcases her delicious product, and gives tips on how to get creative in the kitchen using different Cocacao squares. Enjoy 10% OFF during March 2021. Go to Cocacao.com and use code ASHLAND21
Behind the scenes with Elyce Zahn, chocolatier at Coco Tutti Chocolates
Discover how this talented chocolatier makes her rainbow-like individual bonbons filled with house made jams and nut butters. Using locally sourced ingredients in sunny California, Elyce creates flavor profiles that remind us of summer any time of year.
Peanut Butter and Dark Chocolate Dream Bars
Join Pastry Chef Mia Schoen of Luna Café & Mercantile for a quick step by step instructions for this delicious treat. Download recipe
Double Chocolate, Pistachio, Cardamom Cookies
Follow along Pastry Chef Kali Kennedy of Larks Home Kitchen Cuisine as she demonstrates how to make these savory-sweet cookies that will be hard to resist when made at home. Download recipe
Cacao Magic Costa Rica
Meet Noa and Itamar and discover their passion for raw cacao from the Southern Caribbean region of Costa Rica. Cacao Magic is a pure medicinal-grade-cacao that they produce and offer in cacao ceremonies. Learn how it raises your vibrational frequency, balances your body, opens your heart and elevates your spirit.
Dark Chocolate Caramel Bars – Wildwood Chocolate, Portland, OR
Join artisan chocolates maker Steve Lawrence as he demonstrates how they make their chocolate caramel bars.
We believe in giving back! 10% of the virtual Oregon Chocolate Festival pass proceeds will go directly to supporting Rogue Valley Habitat for Humanity (an organization that directly supports those displaced by the Almeda Fire in the Fall of last year).